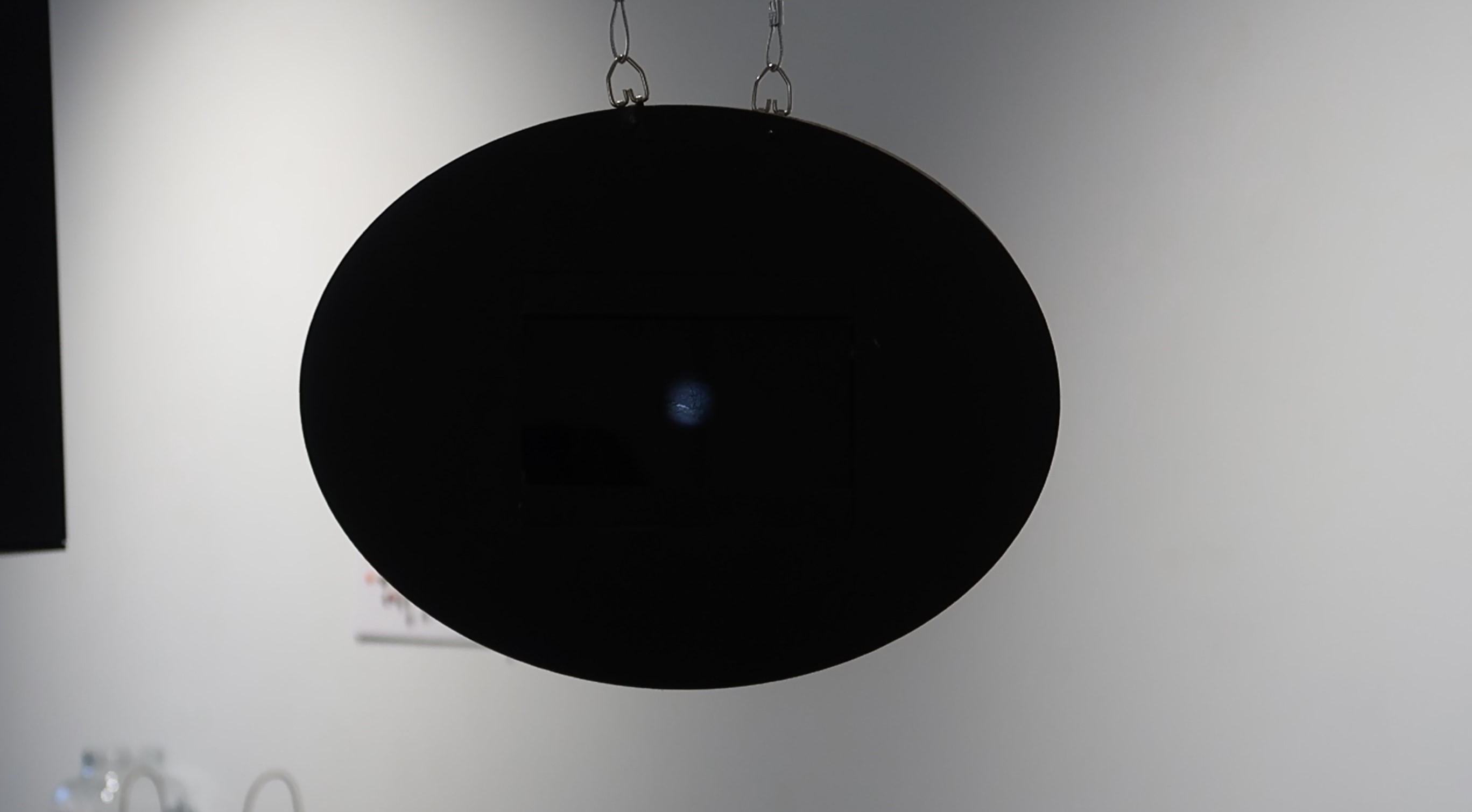 This work is a continuation of a previous work, The Ostrich Box. When the audience puts their heads in the dark boxes, all light will be blocked and sound will be greatly reduced. At this time, the audience will experience an unprecedented tranquility. When vision no longer affects the brain, the brain more room to focus on other senses. After researching many different types of visual phenomena, I am ready to push this work in a new direction.

Eidetic Imagery, also called the camera memory, is a visual phenomenon experience usually occurs among children. According to eidetic kids, they can continue to "see" a scenario, like a detailed picture in mind. No matter if the eyes are closed or look to other places, the pictures will always appear. Blood circulates at different speed throughout the crculation in different body positions, and many researchers have shown that lying down and sitting down are more efficient ways to think. Phosphene is the sensation of light that occurs when the eye is mechanically stimulated.


For this work, four wooden boxes are placed at four different heights. The audience enters each box in different positions with different postures. One position require standing, one requires sitting, one requires lying down, and one requires curling up. Of course, the audience can also create new positions to enter these boxes.

Unlike the Ostrich Box, this work create a space to release pressure, where one can expenirence tranquility. However, this work is also intended to let the audience explore their inner feelings and memories. The sense of isolation is one of the main elements of this work. When the audience put their heads into the box, they will be aware that their bodies are still outside the box, so as to create a sense of threat. This sense of threat is not only difficult to ignore inside the box, but grows stronger and stronger. This sense of threat can also be called discomfort, and continued discomfort can make the viewer want to leave the box earlier eventhough the audience knows that this is the exhibition space, and there may be other people putting their heads in other boxes at the same time.

This experience is a "spelunking experience", in which the audience is curious about what lies insideWhen I first entered this "cave", what I saw was the "insipid" darkness. There was no sound outside, only the unique sound belonging to this place. It's also a dangerous place, and only trust in each other will keep you safe in this cave.


这个作品是之前鸵鸟盒的延续,观众将头放在一个黑色的盒子内,所有的光将被阻隔,外界的声音也被大大的减小,这个时候观众会体验一种前所未有的宁静。当视觉这个非常重要的感官不再影响人的大脑时,会给大脑更多的空间去集中到其他的感官上。经过了解很多种类的视觉现象后,我准备将这个作品推向一个新的方向。

遗觉像,也叫做照相机记忆,是一种通常发生儿童时的视觉现象,据有过遗觉像经历的儿童描述,他们能一直"看到" 一个之前见到的场景,所有的细节都想照片一样印在脑中,不论把眼睛闭上还是看向其他地方,这个画面都会一直出现。血液循环系统,在不同的姿势下,血液循环一周的速度不一样,很多学者表明在躺下和坐下的时候思考的效率更高。光幻视,指眼睛受到机械刺激时出现的光感觉。

四个由木板制成的盒子被放在了四个不同高度的位置。观众会用不同的姿势进入四个不同位置的盒子里。有的位置需要站立,有的需要坐着,有的需要躺下,还有的需要蜷缩,当然观众也可以创造新的姿势进入这些盒子。同时还有一些视频碎片也被悬挂而起,并播放着。

不同于之前的作品鸵鸟盒,那是一个释放压力的空间,在那里可以感受前所未有的宁静。而这个作品却是想让观众挖掘内心深处的感受和记忆。隔离感是这个作品主要的元素之一,当观众把头伸进盒子的时候,他们会很清晰意识到他们的身体仍在盒子的外面,从而得到一种危胁感,这种威胁感是不仅很难随着进入的时间消失的,反而越来越强。这种威胁感也可以称作不适感,持续不适感会使观众想要早一点的离开这个盒子。虽然观众知道这里是展厅的空间,而且可能同时也有其他人在把头放进其他的盒子里。

这个经历我会把它形容成一次洞穴探险,观众会好奇里面有什么,带着追寻刺激的心情,他们相互看了几眼,结伴进入这个"洞穴"。刚进入这个"洞穴"的时候,引入眼帘的且是"索然无味"的黑暗,这里没有外面的声音,只有属于这里的独特声音。同样这里也是危险的,只有对彼此的信任才会让你继续感到安全的继续停留在这个"洞穴"之中。而最终也会有所收获。